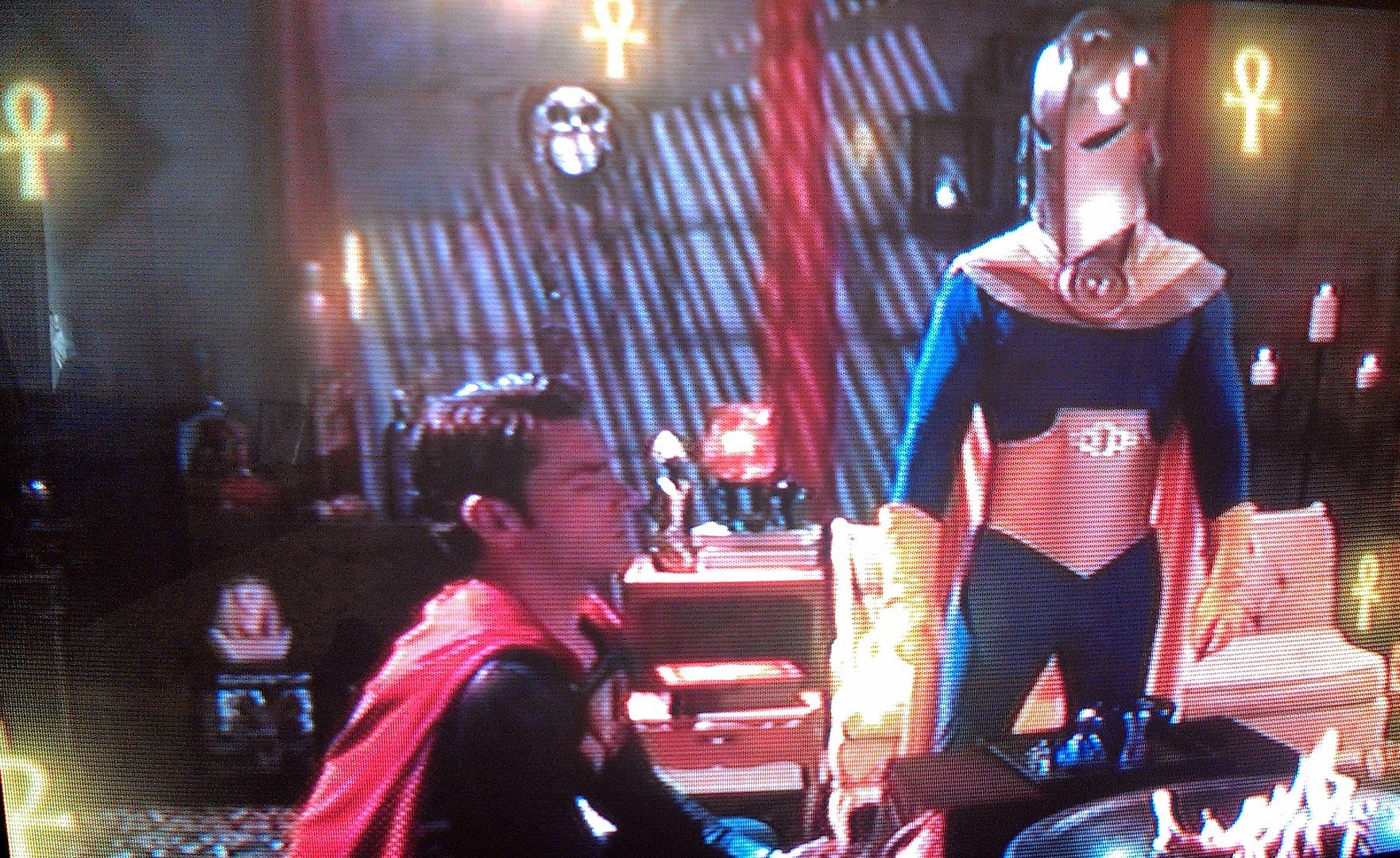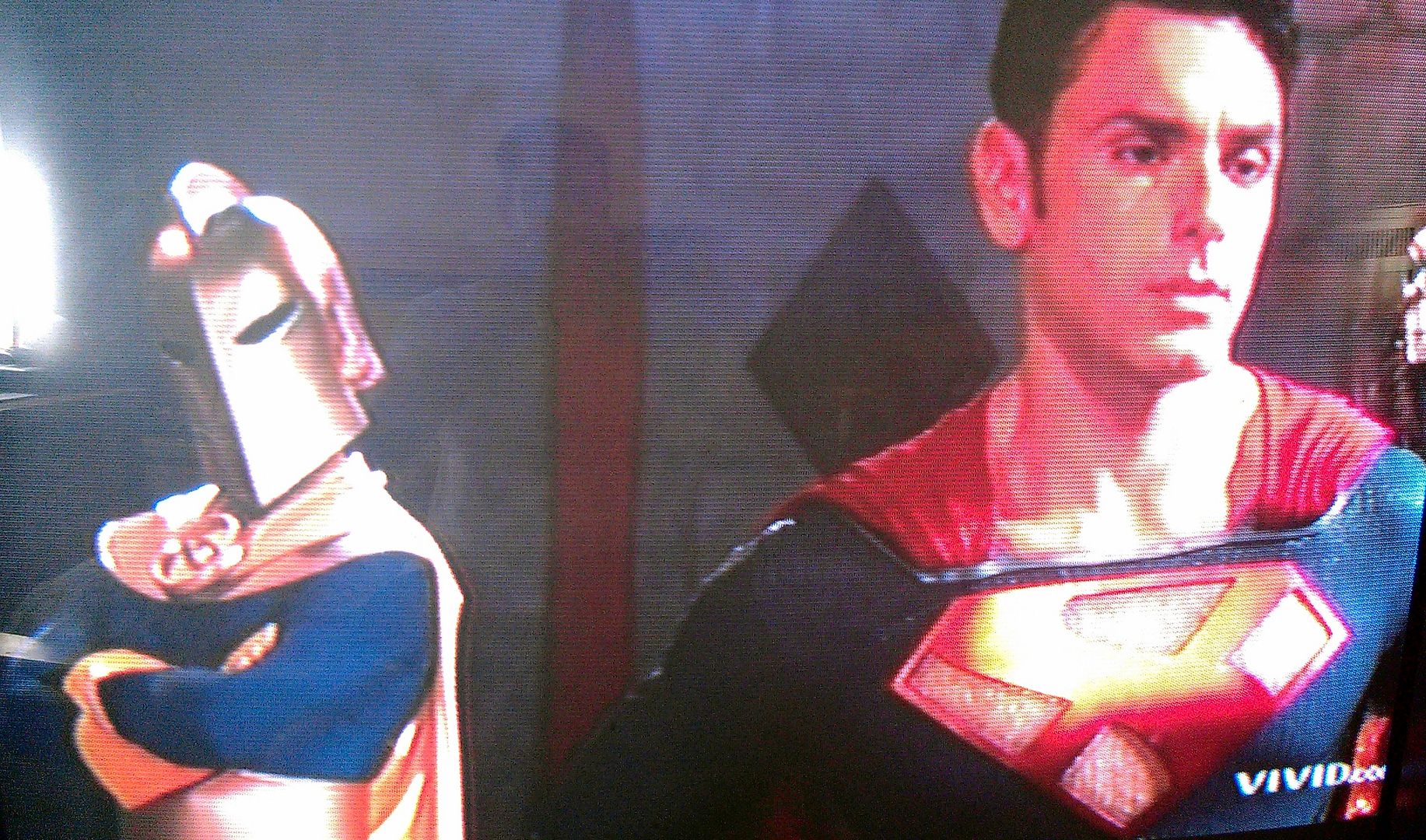 After much anticipation Axel Braun's Man of Steel Parody arrives in [adult] stores tomorrow and can actually be seen on line now at Vivid.com. I have only seen the non-sex version of the movie, not because I'm a saint or because I am against adult material, I was just really interested in the story that Axel Braun was going to put on screen for his version of the Man of Steel. And let me say that Mr. Braun has really put together something quite good. Of course, it will not measure up to big budget films with special effects and even in terms of acting talent, but for what it is (a parody), it is quite good.
Lets begin with the good stuff:
The Story
is quite interesting. After killing Live Wire in a fight, Superman decides to leave Metropolis behind and give up his powers. He enlists the powers of Dr. Fate to assist him with his decision. (By the way, Superman flies to the Tower of Fate. Can't tell you how awesome that was to see.) Lex Luthor puts out a bounty on Superman's head and makes his own clone of Superman which turns out to be Bizzaro. After hearing of the chaos Bizzaro is causing in Metropolis, Clark decides to get his powers back by going back into the fortress of solitude where Dr. Fate has left a gift for him (his black Superman suit). Bizzaro tracks down Superman to the fortress of solitude and after a short battle, Superman sends Bizzaro into the Phantom Zone. Wonder Woman shows up at the end and in what appears to be a nod to the New 52, she and Superman share a kiss.
The acting
by both Ryan Driller (Clark Kent/Superman) and Eli Cross (Lex Luthor) is actually very good. Much, much better than expected. The stand out really being Eli Cross' portrayal of Lex Luthor which was surprisingly brilliant and believable. Also, Samantha Ryan's Lana Lang wasn't too bad at times. It is also great to see these characters talk like we folks talk. When Lana Lang offers the now powerless Clark Kent a beer and he declines it saying he is a "lightweight" makes the character seem more real and down to earth. Of course, the other actors/actresses in the movie do their best with what acting abilities they have and one must remember that after all, this is an adult film where acting is not the first priority. Having said that, you can tell that Ryan Driller and Eli Cross have at the very least taken the roles seriously and tried to bring a character to life rather than just wear a costume on screen as a prop to be taken off before the real "action" begins.
The continuity
that Mr. Braun tries to bring to the screen is pretty spot on. Before relinquishing his powers, Superman responds to Dr. Fate's accusation of being afraid by saying that he has faced Doomsday and Mogul, and he has died and come back to life. Also, Luis Lane tells Lana Lang that Captain Atom attempted to stop Bizzaro but got his ass handed to him. In the movie we also get to see Batman, Zatana, Silver Banshee and Angle Man. This is a universe where all heroes and villains exist. I hope that somewhere in the New 52, one of those Earth's is part of the Universe that Axel Braun has created.
The costumes
were very faithful to the comic characters. And Superman's costume was very close to the Man of Steel costume. Great work! Although, Dr. Fate's helmet is a bit large (and that is not a double entendre).
Now, onto the bad:
The acting
, besides the actors I mentioned above the acting by the others leaves a lot to be desired. Now,of course this is expected so I wasn't too disappointed with it. But I again have to give credit to Mr. Driller and Mr. Cross for taking their roles seriously and doing a good job with their characters.
The action
, or how little of it there was, kind of disappointed me. I understand that this is an adult film and it really is about the sex, but I kinda wish the action scenes (and by action I mean fighting) were a little longer. I have not seen Mr. Braun's Dark Knight parody, but from the trailers on Youtube, it looks like it contains some well choreographed fights. Would have loved to see Bizzaro and Superman duke it out a little more.
Overall
Overall I thought Axel Braun (and his cast) did a great job within the genre of film that he works in. He put together something that a fanboy like myself can enjoy as something fun, which I believe is his intent. The story was a bit darker, which seems to be the trend for Superman now, as we see how Superman deals with the guilt of killing. The acting by some of the lead actors (specifically Lex Luthor, Superman, and Lana Lang) is actually quite good. It goes beyond cosplay porn and into the realm of well done fan films. Not to say that it doesn't have it's issues, but for a porn parody I was quite happily impressed with the quality. Makes one wonder what Mr. Braun might be able to do with a bigger budget and without having the confines of making an adult film. I'll be picking up Mr. Braun's Dark Knight parody and other DC parodies just to see if he continues to build on the continuity he has created. Would be great to see a Justice League parody from him in the future, as well as a Justice League Dark.
UPDATE
A quick update to my review after a second viewing of the movie. Two more things I liked about the film:
1) Sasha Knox's portrayal of Livewire is actually pretty good. Her acting is not half bad and her short battle with Superman is actually pretty cool.
2) I liked the fact that this Man of Steel did not need an origin story. Superman already exists as Superman and so do all the other DC characters. I both hope and wish that more studios and directors of the actual big screen films would take this route. I hate having to sit through a story that I have heard countless times be told all over again.